COMMUNITY RESOURCES
American Diabetes Association
The American Diabetes Association is the nation's leading nonprofit health organization providing diabetes research, information and advocacy. We were founded in 1940 and have programs in all 50 states. Our mission is "to prevent and cure diabetes, and to improve the lives of all people affected by diabetes."
The Long Island office, based in Hauppauge New York, in Suffolk County, is part of Area 3, which encompasses Long Island, New York City and its five boroughs, the Lower Hudson Valley and Fairfield County in Connecticut.
To reach the Long Island office:
American Diabetes Association
534 Broadhollow Road, Suite 10
Melville, NY 11747
Phone: (631) 348-0422
Fax: (631) 531 8020
www.diabetes.org
To learn about the American Diabetes Association's programs, find information on the different types of diabetes and their treatment, nutrition and menu tips, and events in your area. Log onto the American Diabetes Association web site – www.diabetes.org. To learn about local activities, click onto the New York State map in the right hand corner of the web site, and you will find information on blood, foot and eye screenings, diabetes education classes, support groups, our Tour de Cure bicycle rally, America's Walk for Diabetes, the Family Symposium, and, how you can volunteer for this significant organization.
CHOICE Medical Transport
The company was created to bring back high quality service to all who require ambulette transport. CHOICEs success is due to continous committment providing quality service one transport at a time.
Call for your next trip 631-342-8888.
Doctors Appointments
Dialysis Treatments
Hospital Discharge
Local Airport
Special Events
One way or round trip, 24 hours a day, 7 days a week.
Division of Pediatric Endocrinology, SUNY Stony Brook
Diabetes care services for children and adolescents
Insulin pump therapy program
Suffolk County site for Diabetes Prevention Trial, Type 1
Provide medical liason for Robert K. Sweeney Summer Fun Days Program.
Dr. Andrew Lane
Telephone: 631-444-3429
FAX: 631-444-6045
Eyes On Diabetes
Are you one of the nearly 24 MILLION adults and children in the United States with Diabetes? If so you could be at risk for early CATARACTS or BLINDNESS.
As the blood sugar increases in people with diabetes, the ability of the eye to focus becomes affected. The lens, the part of the inner eye that helps focus vision, fills with sugar and water. The water then changes the shape, size, and color of the lens leading to a CATARACT which causes blurry vision. Cataract surgery may help some patients regain some vision.
If Diabetes is left uncontrolled, BLINDNESS can develop. Diabetes causes the blood vessels in the retina, the part of the eye that detects light, to shut down. As a result, the retina has poor blood flow and doesn't get the nutrients it needs to survive. If you don't receive proper treatment, the retina will die and permanent vision loss may ensue.
Would you like to prevent Diabetic CATARACT and BLINDNESS?
All in favor, say EYE!
If you have Diabetes or PreDiabetes, the Department of Ophthalmology at Stony Brook University can provide Diabetic Screening Examinations and Treatment by Board Certified Ophthalmologists.
Please call 631-444-4090 to make an appointment today and visit us at our website:
http://www.stonybrookmedicalcenter.org/ophthalmology/information.
Department of Ophthalmology
33 Research Way
East Setauket, NY 11733
Ph: 631-444-4090
Helen Keller Services for the Blind
Helping Blind and Visually Impaired Children and Adults
Helen Keller Services for the Blind (HKSB) helps blind and visually impaired New Yorkers of all ages live as independently as possible. The agency offers an array of one-on-one and group services to educate, rehabilitate and instruct residents of the greater New York Metropolitan area and Long Island. HKSB has offices and clinics in Brooklyn, Hempstead and Huntington.
Low Vision Clinics
Each facility features optometrists that are also certified low vision specialists. To help indiviuals maximize their remaining vision, these eye doctors can provide examinations and devices such as hand-help magnifiers, telescopic lenses, electronic vision aids and tinted lenses.
Rehabilitation Services
Certified vision rehabilitation teachers and teaching assistants work in small groups and one-on-one to help clients adapt to vision loss and learn the skill of daily living. Clients learn practical skills, such as reading Braille, typing, cooking, grocery shopping, housekeeping, organization and labeling techniques. Orientation and Mobility instructors teach safe travel at home and in the community. Social workers help clients and their families adjust to visual impairment, while encouraging independent living in the home, community and on the job. Blind and visually impaired adults of all ages benefit from rehabilitation.
Senior Centers
HKSB Senior Centers have educational and social activities for legally blind seniors over the age of 55 in stimulating and supportive environments. Programs include guest speakers and day trips. Specific centers are nutrition sites.
Helen Keller Services for the Blind
One Helen Keller Way
Hempstead, NY 11550
(516) 485-1234
Fax (516) 538-5785
Helen Keller Services for the Blind
57 Willoughby Street
Brooklyn, NY 11201
(718) 522-2122
Fax (718) 935-9463
Helen Keller Services for the Blind
40 New York Avenue
Huntington, NY 11743
(631) 424-0022
Fax (631) 424-0301
http://www.helenkeller.org
Juvenile Diabetes Research Foundation
JDRF, the world's leading nonprofit, nongovernmental funder of diabetes research, was founded in 1970 by the parents of children with juvenile diabetes – a disease which strikes children suddenly, makes them insulin dependent for life and carries the constant threat of devasting complications.
Since inception, JDRF has provided more than $410 million to diabetes research worldwide. In 2001 alone, we will spend $120 million. We are proud to say that 85 cents of every dollar goes directly to research and education. Our mission is constant: to find a cure for diabetes and its complications through the support of research.
Youth Ambassador Program
The Long Island Chapter of the Juvenile Diabetes Research Foundation has a terrific program for young people with diabetes. It's called the Youth Ambassador Program (YAP for short). The group meets monthly and discusses all aspects of life with diabetes as well as ways they can help JDRF. Members are NOT required to fund-raise. Youth Ambassadors are honorary hosts at chapter events, such as the gala and research update. Call 631-414-1126 for more information and join the more than 50 youth ambassadors who are helping JDRF support the best diabetes research in the world.
For more information, visit our website at www.jdrf.org or call JDF-CURE, ext 536.
Barbara Gill Rogus, CFRE
Executive Director
JDRF – Long Island
Suite 118
532 Broad Hollow Road
Melville NY 11747
631-414-1126 • FAX 631-414-1133
Mather Hospital Wound Treatment Center
We specialize in healing chronic wounds
If you have a sore or wound that hasn't started to get significantly better in a month, or healed entirely in two months, you should ask your doctor about the Wound Treatment Center.
If you're suffering from a non healing wound, you're not alone. Every year, chronic wounds, caused by diabetes, poor circulation or other conditions, keep 3 to 5 million Americans just like you from doing the things they love to do. But the Wound Treatment Center can help you get your life back.
Our unique team of dedicated doctors and nurses treat more of these wounds than anyone else. Including many that have resisted healing after months and even years of traditional treatment.
It's all we do. And we do it with an unmatched healing rate of over 80%! In fact, for most patients, the Wound Treatment Center program leaves them completely healed in just a few months.
Preparing to visit the Wound Treatment Center
Call for an appointment
You may be asked a few questions about your wound and general health.
Keep your appointment. It's the first step toward healing your wound. We're dedicated to helping you, but your cooperation is vital.
Make a list of any allergies you have and any medications you're currently taking, including aspirin and vitamins.
Bring your medical records, and insurance cards and forms.
If you have diabetes, bring snack food and medication with you. Your first visit will take some time.
Wound Treatment Center
Davis Professional Park
5225-53 Route 347, Building 12
Port Jefferson Station, NY 11776
631-474-4590
Wound Treatment Center
Walt Whitman Plaza
1895 Walt Whitman Road
Melville, NY 11747
631-249-2347
http://www.matherhospital.org/wound-care.php
NYS Elderly Pharmaceutical Insurance Coverage (EPIC)
EPIC helps seniors pay for prescription drugs. New York State residents
65 and older should apply for EPIC, the Elderly Pharmaceutical Insurance
Coverage program, which is used primarily to supplement Medicare
Part D or other drug coverage. EPIC helps pay the Part D premiums
and covers the Part D deductible, co-payments and coverage gap.
Click here for more: http://www.nyhealth.gov/health_care/epic/
My Canadian Pharmacy
This company specializes in pharmaceutical business. The specificity is generic medications. People may buy generic medications of various drug categories. Such drugs may help people overcome many health problems beginning from general weakness and ending with some severe disorder. This pharmacy has been present on the market for almost 20 years having a trustworthy reputation.
Contact Information:
Parkwood Place, 1600 – 15th Avenue, 196,
Prince George, BC V2L 3X3, Canada
+1-604-570-0738
St. Joseph Hospital Wound Care and Hyperbaric Center
4295 Hempstead Turnpike
Bethpage, NY 11714
Southampton Hospital – The Center for Advanced Wound Healing 240 Meeting House Lane, Southampton N.Y. 11968 631-726-3300
Chronic, difficult wounds that have not responded to standard treatment require specialized expertise. Chronic wounds caused by diabetes, poor circulation and other medical conditions can significantly impact the quality of life. In some cases, they put patients at risk for hospitalization and amputation.
The Center for Advanced Wound Healing at Southampton Hospital offers specialized wound care and hyperbaric oxygen therapy with oversight by a medical team skilled in the latest evidence-based methods to treat stubborn wounds. Customized treatment plans, continuity of care, and communication with your personal physician assure the highest level of success.
Customized Treatment
On your first visit, a physician and certified wound care nurse will conduct a comprehensive evaluation of your condition and develop a treatment plan tailored to your needs that will include a variety of therapies, among them:
Edema reduction (excess fluid)
Removal of damaged tissue
Topical therapies (medications and dressings)
Skin substitutes
Compression therapy
Negative pressure therapy
Antibiotics
Hyperbaric Oxygen Therapy (HBOT)
Hyperbaric Oxygen Therapy is a painless, noninvasive treatment for chronic wounds and infections that have resisted other treatment. HBOT uses pressured oxygen to help wounds heal faster. HBOT is completely painless and you have ample space to lie comfortably in the transparent hyperbaric chamber. Patients breathe 100% oxygen under increased atmospheric pressure while lying in a hyperbaric chamber. Take a nap, watch television or a DVD, and talk face-to-face with your caregiver during treatments which typically last 90 minutes. The number of treatments will depend on your wound's condition and how it responds to therapy.
HBOT is highly effective and safe. It significantly increases the level of oxygen in the bloodstream, helping to:
Boost the body's natural healing process
Stimulate the growth of new blood cells
Reduce swelling and inflammation
Aid in the fight against infection
Who manages my care?
Our professional staff will monitor your progress and need for follow-up care, and keep your physician informed with regular updates. You and your caregiver will also receive extensive instruction on how to manage your condition at home after the specialized treatment has ended.
What if I need additional services?
Our Center is located in the Hospital so it is easy to access other medical resources on an outpatient basis. The Nurse Manager will make these arrangements for you.
Will health insurance cover the costs?
Most health plans, including Medicare, cover wound healing and hyperbaric medicine treatments for approved indications. Our staff will handle your insurance pre-certification and verification for your convenience.
Is a physician referral necessary?
Referral is not necessary. If you have a chronic wound that requires specialized expertise, call the Center at (631) 726-3300.
Suffolk County Department of Health Services – Division of Patient Care Diabetes Education Program

The Suffolk County Department of Health Services, in collaboration with Cornell Cooperative Extension of Suffolk County, is proud to offer classes in diabetes self-management to all residents of Suffolk County with diabetes and their families. A series of six classes is scheduled at various locations throughtout the county during day and evening hours. A Registered Nurse and a Registered Dietitian facilitate the classes. There is a $5 registration fee, which is returned upon completion of the series.
Classes in Weight Management are also offered to all Suffolk County residents with or at risk for diabetes. Classes are scheduled at various locations throughout the county during day and evening hours and are facilitated by a Registered Dietitian. There is a $5 registration fee, which is returned upon completion of the series.
For further information, class schedules or information regarding classes for Spanish speaking residents, please call (631) 727-7850 ext 340.
For information regarding other services provided by the Suffolk County Department of Health Services, please visit our website at http://www.suffolkcountyny.gov/HEALTH.
EDUCATIONAL RESOURCES
Brookhaven Memorial Hospital Diabetes Education Program
Individual Counseling by Physician Referral (Referring physician must be on Brookhaven staff)
RN Medical education – Teaching on basic diabetes self management, help with blood-sugar testing, insulin injection if needed.
For appointment call: 654-7778
RD Dietary Counseling – Individual meal planning
For appointment call: 654-7776
Cornell Cooperative Extension of Suffolk County
Diabetes Education Program
People who live with diabetes have a higher risk for heart attacks, strokes, kidney failure and blindness. The more attention people pay to managing their diabetes the more likely they are to reduce the risk of serious health complications. Learning about nutrition, meal planning, physical activity, stress, and blood glucose monitoring are important steps in managing diabetes.
We provide people with diabetes and their family members knowledge and support to make daily diabetes decisions with confidence.
Our workshop selections can help you to learn to live better with your diabetes.
• Making Sense of Diabetes
• Introduction to Nutrition
• Advanced Nutrition
• Making Carbohydrates Count
• Diabetes Medications
• Blood Glucose Monitoring
• The Impact of Diabetes on Daily Living
• Diabetes and Activity
We also provide diabetes education for health care professionals.
For additional information or to have a brochure mailed to you call:
(631) 727-7850 ext. 340
Fax (631) 727-7130
Diabetes Education and Weight Management Programs – offered in collaboration with the Suffolk County Department of Health Services. Click here to see listing above.
Cornell Cooperative Extension of Suffolk County
Nassau University Medical Center
Diabetes Center, treating adults with all types of diabetes including Type 1, Type 2, gestational and other types of diabetes. Our center is part of the "soon-to-open" Center for Hypertension, Diabetes, and Vascular Disease. As such we shall provide diabetes education and services to outpatients, inpatients and local community health centers.
Patient-oriented programs consist of the Diabetes Self-Management Training Program…available year-round for group and individualized sessions. Our program also offers a monthly community diabetes education program with invited guest speakers addressing topics of interest to those with diabetes. We also invite participants to join our "Walk the Walk, Talk the Talk" program consisting of a weekly health lecture followed by a one-mile walk to promote the benefits of exercise!
In addition, we have hosted mini-diabetes fairs in our hospital lobby, bringing together representatives of various medication and diabetes product companies, nutritional services and educational information.
Interested parties can contact Ms. Tenekia Lindsay, 516 572 6573 or tlindsa1@numc.edu
National Diabetes Education Program
At last! The government has actually produced different materials in different languages with different pictures for different ethnic groups on preventing diabetes! Visit the following website and see all of this exciting new materials!
http://ndep.nih.gov/
Nutrition Wisdom

Joan Stollberger, MS, RD, CDE, CDN
Diabetes and Nutrition Therapist
Food Coach
http://nutritionwisdom.net
Darlene Petroccione, RD, CDN
640 Belle Terre Rd. Bldg. E
Port Jefferson, NY 11777
631.987.4006
Helping the patient accomplish their goal of lowering blood sugar, blood pressure, cholesterol.
Feel empowered with:
Meal planning
Label reading
Understanding carbohydrate, fat and protein
Southside Hospital
Diabetes Self-Management – Classes are held monthly during day light hours
This 2 hour management class consist of: Identifying diabetes, understanding the function of insulin, components of management, complications, skin, foot, dental and eye care.. Management, prevention and treatment of hypo/hyperglycemia, exercise oral hypoglycemic agents, insulin and blood glucose monitoring.
One-On-One Instructions – A scheduled appointment is necessary
Insulin injecting techniques, site rotation, blood glucose monitoring, timing injections and foods., glucogon injecting kit. Hand on return demonstration of techniques of injecting insulin and blood glucose meters are given on a one – one basis at the pace of the learner. This is a 1 ½ – 2-hour session.
Diabetes Nutrition – Classes are held monthly during day light hours
This 2 hour class consist of: Identifying carbs, protein, fats, relationship between carbs and blood glucose, balanced meal planing, label reading, portion size, medication and food interactions, hidden fats and carbohydrates.
FAMILY MEMBERS ARE WELCOMED TO ATTEND ANY AND ALL SESSIONS
A printed schedule of all the above classes date and times for the year 2005 are available on request. They are also located on the Upcoming Events page.
Telephone: (631) 968-3136 • Fax: (631) 968-3529
Winthrop-University Hospital Diabetes Education Center
Since 1979, the Diabetes Education Center at Winthrop-University Hospital has been committed to offering diabetes self-management education and training for patients and families with diabetes in concert with the patient's physician. The Diabetes Education Center at Winthrop-University Hospital was the first nationally accredited outpatient education program in New York State and has continued to be re-accredited. It is not part of a physician office practice. Patients are referred from Nassau, Suffolk, Queens and parts of Brooklyn. The Diabetes Education Center is a participating provider in Medicare and most insurance plans. Since insurance plan benefits vary, eligibility is verified prior to the provision of services.
The staff consists of Registered Nurses and Registered Dieticians who are masters prepared and certified by the National Certification Board for Diabetes Educators (CDE). The staff has been recognized as national experts in diabetes education and management as evidenced by national awards, authorship in diabetes publications and leadership positions in national diabetes organization.
Services include:
Comprehensive Self-Management Program
Nutrition Education Program
Gestational Diabetes Education Program
Insulin Initiation Program
Insulin Pump Program
Individual Consultation for families of children with diabetes, patients with special needs related to vision loss or patients with special language needs.
Kids Interested in Diabetes (KIDs): This unique program provides diabetes self-management education through games and activities for children with diabetes ages 7 to 11 years. Special events include bring a friend night and bring a teacher night.
All of the services provided by and sponsored by the Diabetes Education Center at Winthrop-University Hospital are open to anyone with diabetes independent of where they receive medical care.
Our loyal volunteers are responsible for the success of our support groups. Please consider sharing your gifts with others.
Telephone:
(516) 663-2350
Fax:
(516) 248-1217
Internet:
www.winthrop.org
Contact person:
V. Peragallo-Dittko, RN – Director, Diabetes Education Center
PROFESSIONAL RESOURCES
CartoonMD.com
Medical information that goes down easy
CartoonMD is medical information made very, very simple. Our physician-cartoonist Dr. Grady brings you straight-forward explanations of the medical issues that concern you through regular comic strips.
Dr. Justin Matrisciano
213 Hallock Road
Stony Brook, NY 11790
631-941-1000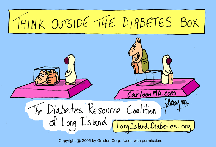 Above is a cartoon "Think Outside the Diabetes Box," which was created on the suggestion of Susan Wilk of the Diabetes Coalition. It's in a GIF format. Feel free to use this yourself for non-commercial puposes in educational/clinical settings, as long as the "CartoonMD.com" and copyright notice remain visible. Also, feel free to forward this to anyone you think might like it. In addition, if you think anyone you know might like CartoonMD.com, please forward the web site name and/or this email to them. There is now a "Tell a Friend" function on the home page of the web site. Thanks. Justin – Justin Matrisciano MD CartoonMD.com
About dLife
dLifeTV is the first and only national, weekly, lifestyle series devoted to living with diabetes, and www.dLife.com is the largest, independent website with diabetes information. The dLife.com Viewing Room offers original streaming video content — unique and entertaining information for people who have diabetes or prediabetes, or who have a family member that does. Produced by LifeMed Media, dLife is the first-ever multimedia platform for diabetes information, inspiration, and connection. dLifeTV airs every Sunday on CNBC at 7:00PM ET, 6:00PM CT, and 4:00PM PT. The dLife Diabetes Minute is heard on radio stations around the country and on XM Satellite Radio.

CME Course ONLINE!! Earn FREE CMEs!
Indentifying Chronic Kidney Disease and Slowing Its Progression
After completing the online course, participants will be able to:
Describe the demographics of the CKD population.
List the medical interventions needed to prevent or slow the progression of CKD.
Indentify complications associated with the progression of CKD.
Recognize the importance of early referral to a nephrologist.
www.kidneyfund.org/professionals
Community Coalitions for Diabetes Prevention
The Community Coalitions for Diabetes Prevention form a cohort of 15 regionally-based partnerships that address public health diabetes priorities in communities across New York State. The goal of the coalitions is the establishment of extensive partnerships and alliances among community-based organizations in order to expand, enhance and improve services for people with diabetes and those who are at risk for developing diabetes. Currently, the coalitions are in the fourth year of a five-year funding cycle; each coalition receives approximately $100,000/year and provides significant in-kind contributions to its regional efforts.
Coalitions are composed of representatives from local health departments, hospital-based diabetes programs, Cooperative Extension, and a number of diverse community-based organizations dedicated to health improvement in disparate populations. Coalitions have established objectives that will allow progress toward achievement of six outcomes established by the DPCP.
These outcomes include coalition capacity-building and sustainability;
primary prevention; secondary prevention; professional education; public
awareness raising of diabetes risk factors; and policy, environmental and
systems changes.
How to Lower Risk of Developing Diabetes and Its Complications
Diabetes Core Curriculum Workshop
– Offered twice per year.
This multidisciplinary, comprehensive clinical update is your bridge to professional excellence in diabetes patient self-management education. It will update your knowledge and prepare you for the Certified Diabetes Educator (CDE) Exam. Nationally renowned faculty, lectures, case studies, mock exams, and discussion.
Location:
Long Island, NY
Time:
4 Full Days
CEUs:
RD, RN, Pharmacist and Podiatrist available
Registration/Information:
Carol Molfetta, RD, CDE
Phone/Fax: (631) 754-3663
Email: carol@healthbyte.org
Website: http://www.healthbyte.org
Diabetes Resource Coalition of Long Island
Organizations and agencies that treat and or educate patients in the management of their diabetes are welcome to join The Diabetes Resource Coalition of Long Island. There is no membership fee.For information call Susan Wilk at Cornell Cooperative Extension of Suffolk County at 631-727-7850 ext. 385. Ready to join our group? Print this membership form and return fax to us at 631-727-7130.

Health Power's mission is improving the health of multicultural populations by providing user-friendly, culturally relevant health information for disease prevention, early detection and control.
Norma J. Goodwin, M.D.
Founder, President & CEO
3020 Glenwood Road
Brooklyn, NY 11210
718-434-8103-Tel
718-434-8162-Fax
healthpower@healthpowerforminorities.org
www.healthpowerforminorities.org
Metropolitan New York Association of Diabetes Educators (MNYADE)
A chapter of the American Association of Diabetes Educators (AADE). Members include registered nurses and dietitians, social workers, pharmacists, physicians, psychologists, podiatrists and diabetes-related industry representatives. Membership in MNYADE offers:
Educational opportunities
Networking with local diabetes educators
Participation in special projects
Promotion of professional growth and development.
Fiscal membership year is October 1 to September 30. For more information contact:
Jane Wendel, RN, CDE
15 Dolly Cam Lane
Bayshore, NY 11706
www.mnyade.org
(National AADE membership is a prerequisite. To find out more about national membership, call 1-800-338-3633.)
National Diabetes Education Program
NDEP is a partnership of the National Institutes of Health, the Centers for Disease Control and Prevention, and more than 200 public and private organizations. Here is a link to some of their educational resources for professionals.
National Kidney Disease Education Program
NKDEP website contains helpful information on kidney disease risk factors, testing and treatment.
Retina Group of New York
Vitreoretinal and laser surgery
Retinal diagnostic testing
Treatments for diabetic retinopathy, macular degeneration, retinal detachments
Nassau Office:
400 S. Oyster Bay Road, Suite 305
Hicksville, NY 11801
516-939-6100
Suffolk Office:
1455 Veterans Memorial Highway
Hauppauge, NY 11749
631-273-1818
www.rgony.com
PRODUCT / VENDOR RESOURCES
Animas Co., a Johnson & Johnson company
Animas makes insulin pumps and gives the time, guidance and support to the people with diabetes who use them.
http://www.animascorp.com/
For more information, please contact:
Roni Pagano, R.D., CDE
Territory Manager
Cell: (516) 650-1407
Fax: (516) 432-0279

Losing Weight Permanently with the Bull's-Eye Food Guide
This book is published by Coalition member Josephine Connolly Schoonen, MS RD. Available at Amazon.com.
Losing Weight Permanently with the Bull's-Eye Food Guide
Health Care Products
We offer a FREE program called "Educators Packs". We will supply product samples & brochures with valuable coupons, for distribution to all your new diabetic patients, AT NO CHARGE. Reorder when ever you need more supplies. AT NO CHARGE
For Program Details Contact:
TEL: 631-789-4962
FAX: 631-789-3143
www.diabeticproducts.com

Eating Soulfully and Healthfully with Diabetes
by Constance Brown-Riggs, MSEd, RD, CDE, CDN
This is an excellent resource for any African American who wants to enjoy traditional foods while maintaining a healthy lifestyle. Includes Exchange List and Carbohydrate Counts for traditional foods from the American South and Caribbean.
CALL 1-800-AUTHORS to order or visit, www.iUniverse.com
101 Weight Loss Tips for Preventing and Controlling Diabetes
Published by the American Diabetes Association
You can purchase from the American Diabeties Association Website
LifeScan, Johnson & Johnson
A leading maker of blood glucose monitoring systems, is dedicated to improving the quality of life of people with diabetes. Visit www.LifeScan.com for diabetes news, self-care tips on health, nutrition resources, and expert advice and more on living with diabetes.
For more information contact:
Anne Cumisky, Long Island
Local Office: 631-264-0020
Voice Mail: 1-800-722-6036 Ext. 5003
UNITED LIFELINE & UNITED HOME SERVICES BASICS
United Lifeline, providing personal emergency response services since 1983, traditionally has charged $75.00 for installation and $45.00 for the monthly service fee. However, we are currently offering our services for a $50.00 installation cost and $39.00 monthly fee. Since we are a not-for-profit organization, under the umbrella of United Adult Ministries ( who work with many church grants), we have the ability to be somewhat flexible and work with a sliding scale, as necessary, to assist in service availability. We are also Medicaid contracted which gives us the ability to work with Medicaid providers. In addition, we bill month to month with no contractual obligation and if services must be stopped and removed for any reason and then need to be reinstalled, we do NOT charge for reinstallation again. In a hardship situation, we will waive the bill for several months so that service is not disrupted.
The United Home Services program offers discounted maintenance and handyman services, as well as professional tradesmen such as electricians, plumbers and carpenters. They are all pre-screened, and have agreed to discount their rates and provide accountability to the job time frame and completion. This service is available through a $95.00 annual membership fee plus hourly fees which also includes a free full house inspection for awareness of the property's condition, as well as batteries in the smoke detector for safety. There are no minimum hour requirements and the job can include yard debris removal, gutter cleaning, light changing, caulking, painting, etc. ($14.00-$17.00 hourly) or extensive carpentry, plumbing and electrical services (Discounted 30-50% off the normal fees).
There is an additional option of getting both services, United Lifeline and United Home Services for only $45.00 per month and NO installation or membership fees are then charged. United Lifeline goes beyond just offering fall/medical attention; it has also prevented burglaries and provided fire alerts. United Home Services also provides independence by providing the ability to attain important home maintenance and preventing falls or other serious injuries. As always, the goal is to keep the client safe and independent while providing peace of mind.
United Lifeline is available in Nassau and Suffolk Counties, as well as the metropolitan area. United Home Services are available in Nassau and Suffolk Counties. Any further questions, please call 1-800-345-4571 or 516-364-3401.
PRINTABLE RESOURCES

Open the Door to Healthier Kids and Families, Close the Door on Childhood Obesity and Types 2 Diabetes
An informational brochure on the risk factors of Type 2 Diabetes and how to prevent it in your family.

Usted es el corazón de la familia …cuide su corazón.
You are the heart of your family …take care of it.
An easy-to-read, bilingual (Spanish and English) brochure that explains the link between diabetes and heart disease for Hispanic and Latino Americans. This illustrated brochure encourages patients to take steps to control not only their blood glucose (sugar) levels, but also their blood pressure and cholesterol.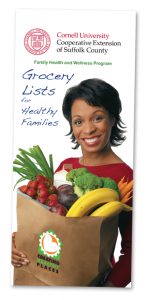 Grocery Lists for Healthy Families
Lista de Comestibles para Familias Saludables
As part of the Diabetes program we are offering a comprehensive shopping list to help make it easier for you to make smart choices when preparing meals for your family.
RESOURCES – Articles
On The Road with Diabetes – by Susan Wilk
Treating Gum Disease Lowers Medical Costs for Diabetics
Say Goodbye to Diabetic Diets – by Alysa Ferguson